Is Your Sleep Schedule Aging Your Skin?
Besides healthy eating and regular exercise, sleep is one of the three pillars of a healthy body. When we get enough sleep, our body works like a clock, it does not fail. When there is a lack of sleep, especially in the chronic form, your health could deteriorate, and along with it, so can your appearance. While you sleep, your body's nervous system switches to a parasympathetic state, which allows greater circulation and oxygen flow to the skin.
It turns out that when you sleep less or seem to have chronic nightmares, the leads to the appearance of wrinkles, dryness, and skin laxity become more prominent, making the skin more susceptible to ultraviolet radiation. Therefore, painful sunburn can occur faster. The reason for this process is that cells do not have time to be updated during the night, at a time when it should be done more intensively. 
Studies show that pores can increase 2-fold, as well as redness on the skin surface. When you have a lack of sleep, the biological rhythms are interrupted. There is a decrease in the production of the growth hormone, a production which is essential to skin regeneration.
This process is also important to counter the process of skin aging being that as we age, the skin becomes thinner. Lack of blood flow to the skin leaves your complexion looking dull and accentuates dark circles under the eyes.
Why is sleep so crucial?
Sleep is a time when the body is able to heal, renew, and eliminate toxins from the skin and body. Less than 7 hours of sleep can mean big problems for the skin.
During the hours you are asleep, your body's hydration rebalances and there is a rise in growth hormone as it repairs itself. That allows the skin to recover moisture and for damaged cells to be renewed. In the eye area, the skin has much less fat so any water retention is much more apparent which is what causes the puffiness we see after a night of tossing and turning.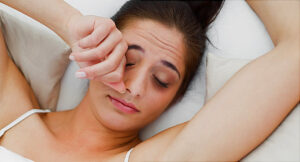 How lack of sleep affects a person's skin condition?
Sometimes lack of sleep can have similar effects on the skin that drinking and smoking have. It affects our physical and mental health, which in turn affects the condition of the skin. If you do not sleep enough, you are depriving your skin of the ability to "update". 
Research has shown that when there is an insufficient amount of sleep, in addition to issues with the skin, bodyweight increases rapidly. This would, in turn, take a great toll on an individual's self-esteem potentially leading to psychological issues, difficulties at work and at home.
 Tips on getting a better night's sleep
Try to get at least 7 hours of sleep per night.

Keep a regular sleep schedule — even on the weekends.

Avoid caffeine 4 to 6 hours before bedtime.

Limit alcohol and heavy meals before sleep — although it seems that a glass of wine will help you fall asleep, you are more likely to wake up through the night once your body begins to metabolize in your system.

Get regular exercise and maintain a healthy diet.

Use a sleep tracking device, like the Sleep Cycle app, that tracks your sleep quality with charts that show when you enter deep sleep. 
Best ways to cover up a night of tossing and turning
On night's where you don't get enough sleep, it's likely that you will still have to go to work and won't be able to squeeze a nap into the day. Here are some tips and tricks to cover up a night that was less than rejuvenating: 
Get out the face scrub – by massaging a face scrub into your skin, you will remove dead cells and promote blood flow.

Harness the power of makeup

Be sure to include foods with lots of antioxidants packed in. These are foods like blueberries and apples that relax the arteries to increase blood flow.
It's possible that at some point you've had a few bad nights of sleep and woke up feeling worse than when you went to sleep. If the issue persists it's possible that you should see a doctor in order to figure out the right sleep routine for you!