Everything You Should Do To Get The Best Night's Sleep
We all know that good enough sleep is crucial for everyone. Your behaviors can have a major impact on your sleep and can contribute to restlessness at night. You can change how you sleep for the better by experimenting with these tips: 
Be sure your bed is comfortable
It sounds simple, but your bed covers should leave you enough space to turn around comfortably in the bed.
Stick to a sleep schedule
You should try to keep the same bedtime and wake-up time each day, even on the weekends when we all feel so tempted to sleep in and recover from our work week. Every night before bedtime, try to write down three tasks that you would like to achieve in the coming days. This helps to regulate your body's clock and could help you fall asleep and stay asleep for the night. Don't go to bed unless you are sleepy.
Exercise daily
Exercising is a great habit to not only keep your physical body healthy but your mental body healthy! Exercising every day will make it easier to fall asleep at night since you have exerted energy before snoozing.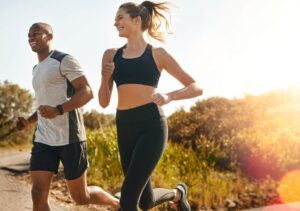 Keep your room dark and quiet
Switch on your noise machine if you can't avoid or eliminate noise from neighbors, traffic, or noises coming from outside your window. Earplugs may also help.
Keep your room cool
Most people find that they sleep best in a slightly cool room. A bedroom that is a bit is too warm or too cold can influence your sleep cycle in a negative way. 
Meditate
Meditation is a way to relax. The easy and quick meditation consists only of breathing. Take slow, but deep breaths through your nose, exhale through the mouth. Do your breathing exercises every day. Between five to ten minutes in the beginning. With practice you will notice that the mind calms down, empty your head from the hustle and bustle.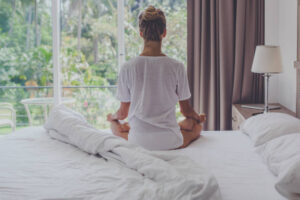 Other helpful tips
Try to close your eyes and imagine a place that's calming and peaceful.

Concentrate on how relaxed this place makes you feel.  

Avoid eating a large meal before bedtime. 

Avoid consuming caffeine in the late afternoon or evening 

Avoid alcohol before bedtime. 

Reduce your fluid intake before bedtime. 

Take a warm bath. 

Listen to soft music.
Reserve your bed for sleeping. Without a TV, a computer or a mobile phone in bed, your brain will associate the bedroom with just sleep and will make it easier to wind down at night.